Leading Edge Technology with Unsurpassed Service
Beverage
A huge range of drinks from all major bottlers, distributors and local companies like homegrown juices.
Snack
EFTPOS Vending have the largest range of snack foods from confectionery and nuts to pre-packaged cheese n crackers.
Sports Supplement Vending
EFTPOS Vending have partner with all major health brands such as Vitaco, Horleys and MusclePharm.
Coffee Vending
EFTPOS Vending have partnered Tiger Coffee as leader in coffee technology. A baristed coffee without the barista at the touch of a button.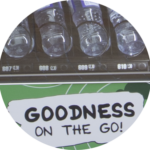 Goodness on the Go
National Food and Beverage approved products comprising of predominantly Kiwi brands. A broad range of meals, cold pressed juices and ready to eat fresh cheese products.
Red Bull Benchtop Vendor
Compact benchtop vendors ideal for corporate or fast-moving environments. These have been successful in tertiary and educational facility study areas.